ABOUT TRINITY RAILWAY EXPRESS
Trinity Railway Express (TRE) is a commuter rail service that operates in the Dallas-Fort Worth metroplex area in Texas, United States. TRE offers a convenient and reliable transportation option for commuters and travelers, connecting the downtown areas of Dallas and Fort Worth, as well as several suburbs along the route.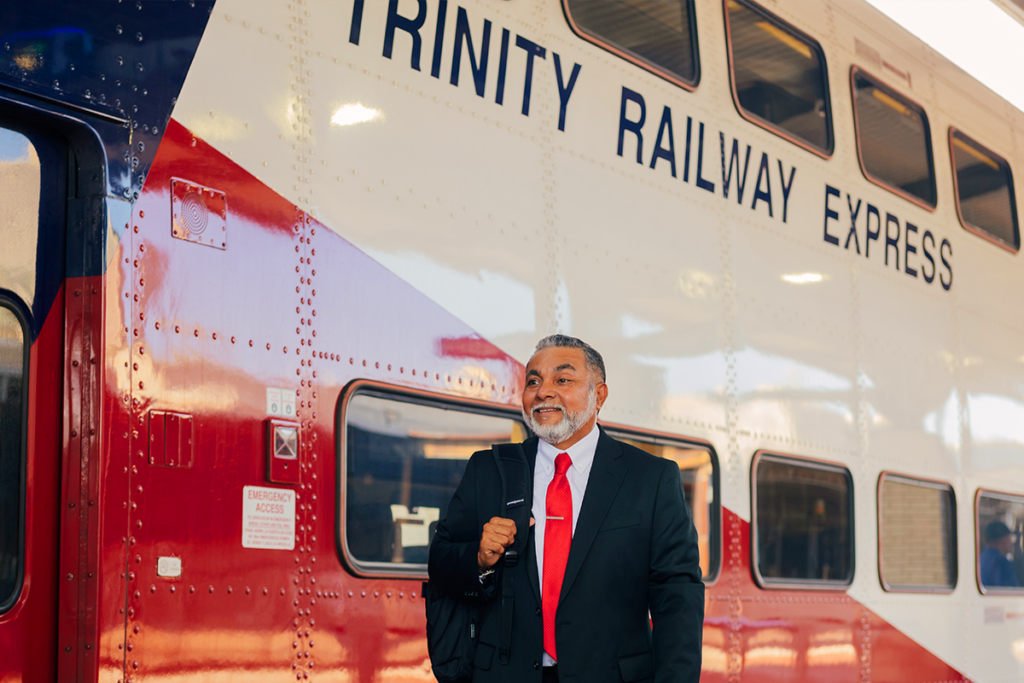 WORK WITH US
Trinity Railway Express is committed to offering a competitive and comprehensive benefits package for its employees and eligible dependents. From wide-ranging health and life coverage to attractive retirement savings programs, flexible spending accounts and educational benefits.
Significant Dates in Trinity Railway Express History
December 30, 1996 – DART opened the first commuter rail line in the southwestern United States. The first segment of the Trinity Railway Express follows along a 10-mile commuter rail line linking downtown's Union Station, the Medical/Market Center Station, and the South Irving Transit Center. More than 4,000 people rode the train during its first day of operation.
December 15, 1997 – The Trinity Railway Express commuter rail line debuts an expanded schedule featuring midday and evening service. The new schedule allows DART to offer 50 trips each weekday on the Trinity Railway Express, up from the 30 currently provided.
December 5, 1998 – The Trinity Railway Express commuter rail line adds Saturday service to its schedule.
March 12, 1999 – The Trinity Railway Express carries its one-millionth customer.
September 16, 2000 – Trinity Railway Express service extends west to four new stations at West Irving, CentrePort, Hurst/Bell and Richland Hills. Revenue service begins September 18. More than 5700 people ride the first day.
December 3, 2001 – Service extends to the Intermodal Transit Center and T & P Stations in downtown Fort Worth. This completes the rail connection between Dallas and Fort Worth.
January 14, 2002 – Trinity Railway Express Dedicates Intermodal Transportation Center accommodating TRE, the T, Amtrak Passenger Service, and retail opportunities.
September 14, 2009 – With the opening of the DART Rail Green Line's first phase between Victory and MLK, Jr. stations, Trinity Railway Express begins regularly scheduled service to Victory Station.
Trinity Railway Express Ridership by Fiscal Year
1996 – 10-mile system opens December 30, 1996
1997 – 175,969
1998 – 455,515
1999 – 587,519
2000 – 688,486 (service extended to Tarrant County, September 2000)
2001 – 1.32 million (service extended to Fort Worth, completing TRE system, December 2001)
2002 – 2.13 million
2003 – 2.29 million
2004 – 2.16 million
2005 – 2.15 million
2006 – 2.4 million
2007 – 2.5 million
2008 – 2.7 million
2009 – 2.7 million
2010 – 2.5 million
2011 – 2.4 million
2012 – 2.3 million
2013 – 2.1 million
2014 – 2.3 million
2015 – 2.2 million
2016 – 2.1 million
2017 – 2.1 million
2018 – 2.0 million
2019 – 2.0 million
2020 – 1.3 million
2021 – 795,300
2022 – 1.1 million
Trinity Railway Express Commuter Rail Stations
News Media Contacts
DART
Gordon Shattles, Director of External Relations
TRINITY METRO
Laura Hanna, Director of Communications